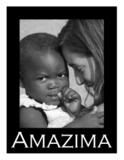 Ok! This is a rather popular one - at least I think it's popular! I've seen the button on a lot of blogs! Well it's our turn! We want to share
Amazima Ministeries International
with those who haven't heard of this fabulous ministry! Honestly, God has been so good to this ministry that I can't put it into words! Seriously!
It was birthed in the heart of a young woman named Katie Davis who after teaching there, she realized the urgent need for affordable and sponsored schooling. She eventually started a sponsorship program through which orphaned children who couldn't afford an education would be able to thanks to a sponsor that would be matched to them. Because of Katie's desire to provide education for Ugandan children, the ministry grew to providing more than education. Amazima also supports children and their families in their walk with the Lord, supplies them with food, and provides visits by social workers. Total Wellness comes to mind! If you haven't heard of this phenomenal ministry, you absolutely have to click
here
to read more about who they are and what they're up to! To see what Katie's doing over there in Ugandan and how she's transitioned this far, you can follow her
blog
! Ooh! Don't forget to click on the box on the Home page titled "projects" to see the latest ways God is blessing!
You know us here at One Message. One Faith. are about praying and reaching out. Well Amazima says that there are plenty of ways your financial sacrifice can help them! You can provide education, a uniform, 2 hot meals a day, school supplies, and minor medical care for only $300! Some of us are spending more than that on just our kids' school uniforms! If God's blessed you and you have it to give, this is definitely a ministry to seek God about whether He wants you to give to. Amazima uses every last bit that they receive for sponsorship on the children. So, if you're being led to support the staff and their needs while they're living in Uganda, you can donate towards that as well. Donate
here
!
As always, this is yet another call to prayer! Lift up the orphaned as well as those children and families living in poverty in Uganda. We aren't the only ones waiting for the return of Christ! The earth is as well! The Bible says that the earth is groaning with anticipation and all these things such as natural disasters and futility of the ground are evidences of that. Remember that there is no thing that escapes God's sight and until His will is completely carried out, we have to pray for strength and His perspective as we wait. We can't remove ourselves from the earth, so as long as we're living on it, we need reach out to those affected by the results of sin and in most cases, God's will. We need to learn to trust Him by the second to guard our hearts against pride. We love because He loved us first! Be safe out Family!